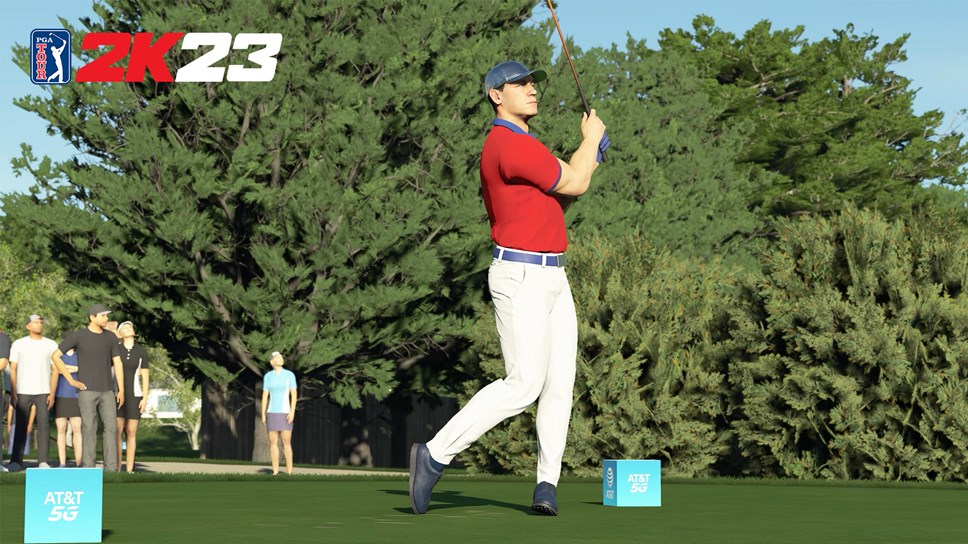 You Can See John Cena in PGA TOUR® 2K23 April 7
Entertainment and WWE icon crosses over to flex his muscles on the fairway
In a collaboration that no one saw coming, John Cena will be available April 7* as a playable golfer in PGA TOUR® 2K23, the highest-rated golf simulator of 2022, according to Metacritic! The 16-time WWE World Champion, Hollywood icon, record-setting philanthropist, and WWE 2K23 cover star joins the likes of Michael Jordan and Steph Curry as one of a select few personalities to be featured in multiple 2K franchises. Cena will take on a roster of the greatest golfers on the planet, including Tiger Woods, Matthew Fitzpatrick, Tony Finau, Lexi Thompson, Xander Schauffele, Collin Morikawa, and more, in the game Bleacher Report called, "the best-playing golf game in years," and "a downright blast."
The man who will "Never Give Up" steps up to the tee box packing long-driving muscle, but how will he fare on the fairways and greens, where precision and skill outweigh power? Decked out in a familiar red, white and blue attire, Cena takes on an entirely new challenge amongst the top PGA TOUR players on several of the most challenging courses. Players can also step into Cena's shoes to take on friends locally, or online with Crossplay support.** Additional new content, including playable pro Nelly Korda, Spyglass Hill Golf Course, Pinehurst No. 2, Eastside Golf gear, Barstool Sports Fore Play Podcast playable golfers, and more will be coming soon.
PGA TOUR 2K23 will be free to play on Xbox platforms from 9:00 a.m. PST Thursday, April 6 through 11:00 a.m. PST Sunday, April 9, and on Steam from 10:00 a.m. PST Thursday, April 6 through 10:00 a.m. PST Monday, April 10. PGA TOUR 2K23 will also be available at 67% off for Standard Edition, 50% off for Tiger Woods Edition, and 65% off the Standard Edition x NBA 2K23 Digital Deluxe Bundle for both PS4 & PS5 from 12:00 a.m. PST Wednesday, March 29 through 11:59 p.m. PST Wednesday, April 12. PGA TOUR 2K23 Deluxe Edition will also be available at 60% off for Xbox One and Xbox Series X/S from 12:00 a.m. PST Tuesday, March 28 through 11:59 p.m. PST April 3.***
PGA TOUR 2K23 Deluxe Edition, Tiger Woods Edition and Standard Edition are available now for Xbox Series X|S, Xbox One, PlayStation®5 (PS5™), PlayStation®4 (PS4™) and Steam.
​​For more information on PGA TOUR 2K23 and 2K, visit https://pgatour.2k.com/2k23/, become a fan on Facebook, subscribe on YouTube, follow the game on Twitter, Instagram and TikTok, and use the hashtag #PGATOUR2K23
* PGA TOUR 2K23 required to access content. Terms Apply. Some cosmetic items and consumables may require unlocking with virtual currency (earned or paid) or via gameplay. John Cena available free to all players with automatic update.
**Online Account (13+) required to access online features. See www.take2games.com/legal and www.take2games.com/privacy for additional details.
***Discount based on 2K's SRP. Offer available on PS4 and PS5 from March 29 12:00 a.m. PST until April 12 11:59:59 p.m. PST. Offer available on Xbox One and Xbox X/S from March 28 12:00 a.m. PST until April 3 11:59:59 p.m. PST. Terms apply
HB Studios is a 2K studio. 2K is a wholly owned publishing label of Take-Two Interactive Software, Inc. (NASDAQ: TTWO).
###