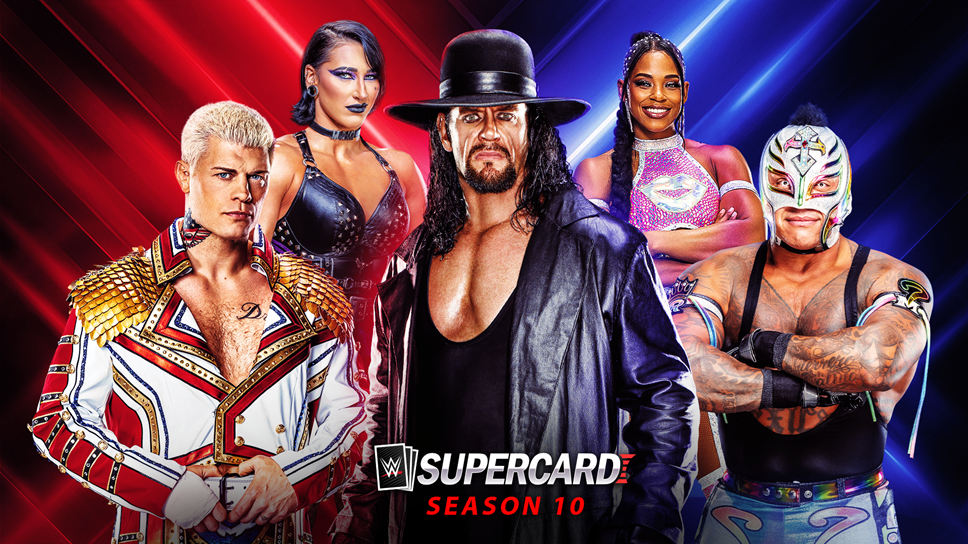 WWE® SuperCard Celebrates One of the Biggest Seasons Ever With Season 10, Available Now
All-new Campaign mode, four card sets, and new Player Level System are among many exciting additions
2K today unveiled details of Season 10 of WWE® SuperCard*, the collectible card-battling game from Cat Daddy Games, available as a free downloadable update on the Apple App Store for iOS devices, and on the Google Play Store and Amazon Appstore for Android™ devices. With fresh new ways to play, new ways to acquire cards and increase rank, an updated look and feel, more player customization and more, there's never been a better moment to pick up, play and be competitive in WWE SuperCard.
In Season 10, the new Campaign Mode is an "always on," multi-stage mode that offers unique strategy and meta challenges to conquer as players progress along a path and compete against their friends and the broader community of players. Three distinct difficulty levels allow for increased replayability.
Players can now also Craft and Forge base-tier cards, using select ingredients found throughout the game, to help them Pro cards, complete their collection or beat a particularly tricky level. With enough ingredients, players can target specific cards for creation.
WWE SuperCard Season 10 boasts four new card sets - Tempest, Detention, Noir and Crucible - that will feature the biggest WWE SuperStars including Roman Reigns, The Undertaker, Becky Lynch, Bianca Belair and many more. The new season puts WWE Superstars at the center of the card collecting experience. The starting set is also being raised to WrestleMania 39, accompanied by a stat squish to increase readability during match-ups.
Season 10 also introduces the Player Level System, an entirely new and reliable way to earn rewards and advance throughout the season. Players can earn XP while playing and unlock access to new rarities as they collect cards via draft picks, packs and rewards from various game modes.
More updates across WWE SuperCard include a fusion chamber revamp and SuperPull - a new and rare event on the draft board that has the potential to offer players a card of their tier - plus pull counter visualization to know when a player's next best card is coming.
For more information on WWE SuperCard and 2K, visit the game's website at WWESuperCard.com, become a fan on Facebook, follow the game on X, Instagram and TikTok or subscribe on YouTube.
*WWE SuperCard requires iOS 12.0 or later for iOS devices, including iPhone and iPad, and requires Android 5.0 and up for Android devices. App includes optional in-game purchases.
Cat Daddy Games is a 2K studio. 2K is a wholly owned publishing label of Take-Two Interactive Software, Inc. (NASDAQ: TTWO).
All trademarks and copyrights contained herein are the property of their respective holders.
Contact Information
UK Press Office