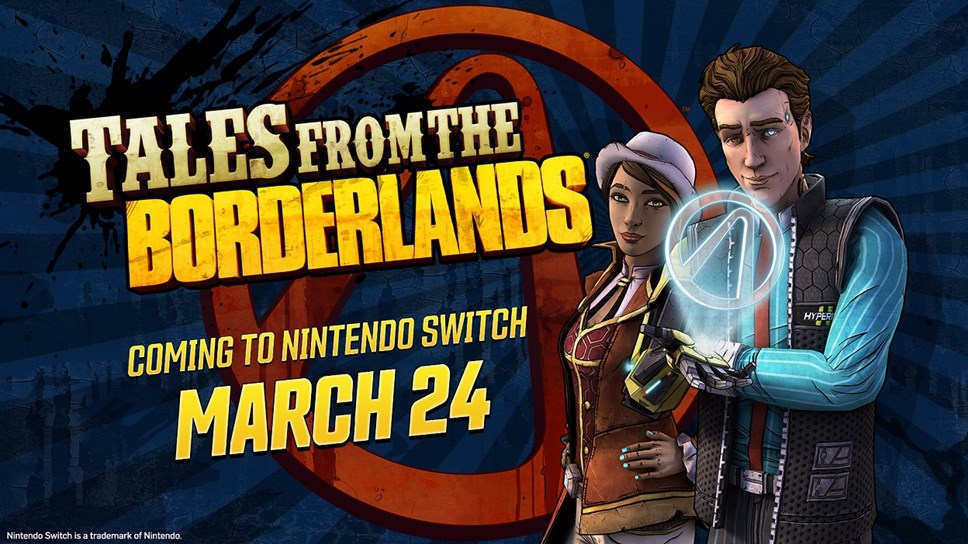 Tales from the Borderlands® Coming to Nintendo Switch on March 24
The critically acclaimed adventure game – which recently re-launched on PlayStation and Xbox consoles, as well as on PC – arrives on Nintendo Switch next month
During yesterday's Nintendo Direct, 2K and Nintendo announced that award-winning adventure game Tales from the Borderlands® will be available on the Nintendo Switch system for the first time starting March 24, 2021. All five original episodes will release as a single digital package. For assets, please visit newsroom.2k.com or borderlands.com.
In addition, the 2K <3 Switch Winter Sale is on now, with cool digital savings on three of 2K's best. For a limited time, save 50% on digital editions of Borderlands Legendary Collection and BioShock: The Collection, as well as 60% on digital editions of XCOM2. The 2K <3 Switch Winter Sale runs from February 18 until February 28, 2021.*
And in case you missed it, Tales from the Borderlands has already returned to multiple digital storefronts! The re-release version, which consolidates all five original episodes into a single package, is now available on Xbox One, PlayStation 4, and PC via Steam and the Epic Games Store. You can also play the game on your Xbox Series X|S or PlayStation 5 via backwards compatibility. Catch the Tales from the Borderlands re-launch trailer here.
Originally released as a series of five episodes between November 2014 and October 2015, Tales from the Borderlands is a choice-driven narrative adventure game that takes place between the events of Borderlands 2 and Borderlands 3. Experience this beloved story from the perspectives of two protagonists, thrown together in an unlikely partnership as they try to recover a mountain of money that each believes is theirs.
Fiona is a full-time con-artist who has been scheming to make a fortune selling a fake Vault Key. Rhys—who you might know from Borderlands 3 as the Atlas Corporation CEO—is an ambitious Hyperion employee who idolizes the recently deceased Handsome Jack and is in the market for a Vault Key.
The deal they strike goes bad in ways that could only happen in the Borderlands, wreaking all kinds of mayhem. How the rest of the story plays out is up to you, as you make choices during explosive action scenes and conversations with familiar characters like Moxxi, Zer0, Marcus, and Claptrap.
Tales from the Borderlands is a crucial chapter in Borderlands canon, so if you haven't yet experienced its chaotic, emotional journey, now's the perfect time. This re-release includes all five of the original episodes in one package:
Episode 1 – Zer0 Sum
Episode 2 – Atlas Mugged
Episode 3 – Catch a Ride
Episode 4 – Escape Plan Bravo
Episode 5 – The Vault of the Traveler
Though episodes won't be available for purchase individually, you also won't need to wait for each subsequent episode to release, and if you have an existing save file, you can pick up where you left off on the same platform. Note that cross-generation save transfers within the same console family are supported for the new Xbox Series X|S and PlayStation 5 consoles.
Tales from the Borderlands and Borderlands 3 are available now. For assets and additional information, please visit newsroom.2k.com.
Tales from the Borderlands is developed by Telltale Games and Virtuos for 2K. Borderlands 3 is developed by Gearbox Software for 2K. 2K is a wholly owned publishing label of Take-Two Interactive Software, Inc. (NASDAQ: TTWO).
*Discounts based on suggested retail price. 50% off offer available for digital editions of Borderlands: Legendary Collection & BioShock: The Collection on Nintendo Switch. 60% off offer available on for digital editions of XCOM2 Collection on Nintendo Switch. Offer valid through February 28, 2021. Terms apply.