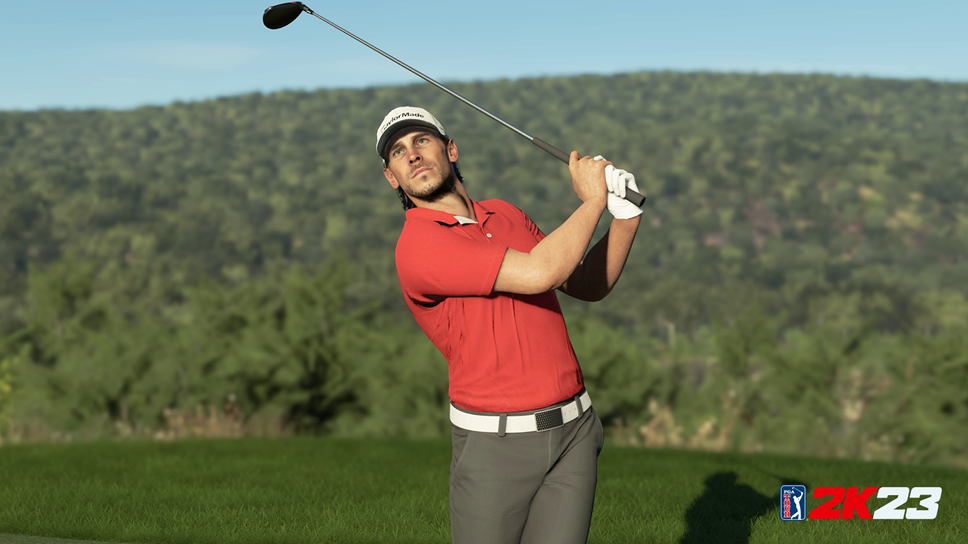 Sports Superstar Gareth Bale Steps up to the Tee Box in PGA TOUR® 2K23
Bale's custom dream course, in-game events, and new Course Designer elements also announced
Today, 2K revealed iconic Welsh athlete and avid golfer Gareth Bale is making his PGA TOUR® 2K23 debut as a playable golfer, available today to all players*.
Best known as one of the fastest players and greatest wingers of his generation, Bale's reputation on the football pitch precedes him. But his love of golf and talent on the fairways may take some by surprise. His passion for the sport is undeniable: He built a replica of the famous 17th hole "Island Green" at TPC Sawgrass in his backyard and has competed in pro-am tournaments. Decked out with TaylorMade gear and clubs, Bale joins the likes of Tiger Woods, Nelly Korda, Matthew Fitzpatrick, Jon Rahm, Lydia Ko, Tony Finau, Brooke Henderson and Xander Schauffele, as well as celebrity guests, including Michael Jordan, Stephen Curry, John Cena and the Dude Perfect crew on the PGA TOUR 2K23 roster.**
In addition to appearing as a playable golfer, Bale provided guidance to VctryLnSprts to design his dream course, The Elevens Club, using PGA TOUR 2K23's Course Designer. Featuring many of Bale's preferred elements, such as big trees, undulating fairways and greens, water hazards, and a scenic waterfall on the eleventh hole, The Elevens Club is available today and free to all players. Players can take on a series of new challenges and earn in-game rewards by playing as Bale and testing their skills on The Elevens Club.***
PGA TOUR 2K23's Course Designer is also receiving updates with the new Asian Architecture Pack available today, featuring both traditional and modern Asian-inspired design elements, including skyscrapers, pagodas, lanterns and lettering. Also coming October 2 is the Halloween Pack, which will feature spooky autumn elements including jack-o-lanterns, graves and tombstones, allowing players to add a chilling touch to their custom courses.
PGA TOUR 2K23 Clubhouse Pass Season 5 is currently ongoing and offers new daily and weekly events.**** PGA TOUR 2K23 is the highest-rated golf simulator of the past decade on Xbox and PC, according to Metacritic*****, and the PGA TOUR 2K23 Deluxe Edition is currently available at 75% off on Steam through September 25, 2023.******* The PGA TOUR 2K23 Standard Edition is currently on sale for 67% off on Xbox One, and 65% off on Xbox Series X|S, through September 25. The PGA TOUR 2K23 Tiger Woods Edition is currently on sale for 50% on Xbox Series X|S and Xbox One platforms through September 25. For new players looking to catch up, as well as seasoned veterans hoping to fill any gaps in their collection, DLC packs are available now, and loaded with VC and consumable ball packs.
PGA TOUR 2K23 Deluxe Edition, Tiger Woods Edition and Standard Edition are available now for Xbox Series X|S, Xbox One, PlayStation®5 (PS5™), PlayStation®4 (PS4™) and Steam.
​​For more information on PGA TOUR 2K23 and 2K, visit the game's official website , become a fan on Facebook, subscribe on YouTube, follow the game on Twitter, Instagram and TikTok, and use the hashtag #PGATOUR2K23.
*PGA TOUR 2K23 required to access content. Terms Apply. Some cosmetic items and consumables may require unlocking with virtual currency (earned or paid) or via gameplay.
**Gareth Bale and all other playable golfers available free to all players with automatic update.
***Challenge valid between 8:00:01 a.m. PT on Sept 13, 2023 and 11:59:59 p.m. PT on Sept 24, 2023. Rewards will be automatically entitled to eligible PGA TOUR 2K23 account by 11:59:59 p.m. PT, Sept 28, 2023.
****Clubhouse Pass rewards require unlocking with gameplay. Season 5 of the Clubhouse Premium Pass and Clubhouse Premium Plus Pass are available for separate purchase. Paid Premium Passes unlock additional rewards for the Season through gameplay. Progress and rewards reset at the end of each Season. For more information on Clubhouse Pass, and Premium and Premium Plus Pass offerings, go to pgatour.2k.com/2k23/clubhouse/. Online Account (13+) required to access online features. See www.take2games.com/legal and www.take2games.com/privacy for additional details.
*****According to Metacritic review score averages as of September 7, 2023.
******Discount based on 2K's SRP. Digital Only. Steam sale ends September 25, 2023 at 9:59:59 a.m. PT. Xbox sale ends September 25, 2023 at 9:59:59 a.m. UTC. Terms Apply.
HB Studios is a 2K studio. 2K is a wholly owned publishing label of Take-Two Interactive Software, Inc. (NASDAQ: TTWO).
Contact Information
UK Press Office