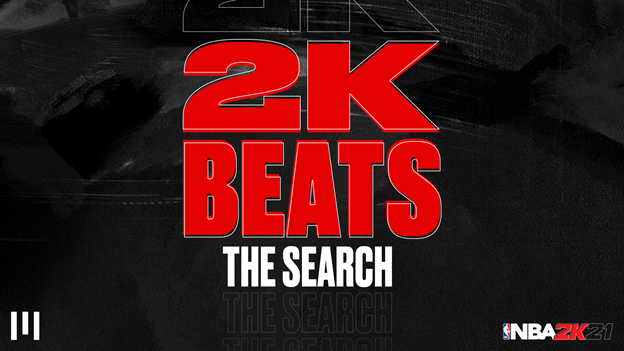 NBA® 2K21 and UnitedMasters Announce 10 Artists Chosen to be Featured on NBA 2K Soundtrack; 10 More to Come in "2K Beats: The Search"
The second international talent search had over 13,000 submissions with winners selected to feature on the industry-leading soundtrack
The 2K and UnitedMasters competition ("2K Beats: The Search") reaches its halfway point today with the reveal of the first 10 winners, including the first artist from Europe, who are set to join the NBA® 2K21 Next Gen soundtrack. The winners were announced by UnitedMasters on Instagram and chosen by Rapper Jadakiss, Ronnie 2K, Producers Murda Beatz and Tay Keith.
The first 10 artists and tracks below will be added to the NBA 2K21 Next Gen soundtrack via an upcoming patch:
Delly Everyday - Same Game (Phoenix, AZ);
Caleb Isaiah - Legend (Grayslake, IL);
Scotty Valid - UP (Covington, GA);
Jupiter Ki - $20Mill (Portland, OR);
Zane Smith - 24 Hours (Lithonia, GA);
Kayo Porter - Never Miss (Jackson, TN);
Smoovebeendidit - Hands Tied (Yonkers, NY);
Skippa Da Flippa - Win Again (Davie, FL);
Caash - Left Knee (Irving, TX);
A1 Illa - Elevating (London, England).
The full list of songs available in the game can also be found on the NBA 2K21 Spotify playlist, which is updated throughout the year.
The final 10 winners will be chosen by Founder and CEO of Translation and UnitedMasters, Steve Stoute, and Boston Celtics All-Star Forward, Jayson Tatum, from the remaining submissions and will be announced weekly on UnitedMasters' Instagram, starting from Friday, February 12. Once the final 10 have been revealed, they will also be added to the NBA 2K21 Next Gen soundtrack in a future update.
"Once again, the cultural connection between NBA 2K and music proves to be a perfect way to celebrate and recognize new artists, basketball and gaming on a global scale," said Steve Stoute, Founder and CEO of UnitedMasters and Translation. "UnitedMasters is always looking to support its independent artists with opportunities to reach new audiences and partner with the hottest brands. This competition has provided artists from all over the world the chance to be featured on one of the biggest games out there, and with more than 13,000 entries, we're only just getting started."
Submissions to the contest came from all around the globe. Independent artists from the US, Canada and UK made up the top three territories, while 2K also saw incredibly strong submissions from artists in other countries including Mexico and Australia.
"What NBA 2K and UnitedMasters have put together here is incredible, giving talented artists from all over the world a platform to showcase their music," said Jayson Tatum, Boston Celtics All-Star forward. "Music means a lot to me, so it's an honor to scope out up-and-coming artists and hopefully give them a break to take the next step. I can't wait to hear what they've got."
The NBA 2K21 in-game soundtrack sets the gold standard for music, with one of the largest collections of music ever assembled for a sports video game, featuring tracks from Damian 'Dame D.O.L.L.A.' Lillard and global artists such as Stormzy, Roddy Ricch, and Little Simz. The NBA 2K21 UnitedMasters competition winners are cemented in the top-rated and top-selling NBA video game simulation series of the past 19 years alongside today's top musical talent.
For more information on NBA 2K21, please visit www.nba.2k.com, become a fan on Facebook, follow on Twitter, Instagram, TikTok or subscribe on YouTube.
Visual Concepts is a 2K studio. 2K is a wholly owned publishing label of Take-Two Interactive Software, Inc. (NASDAQ: TTWO).