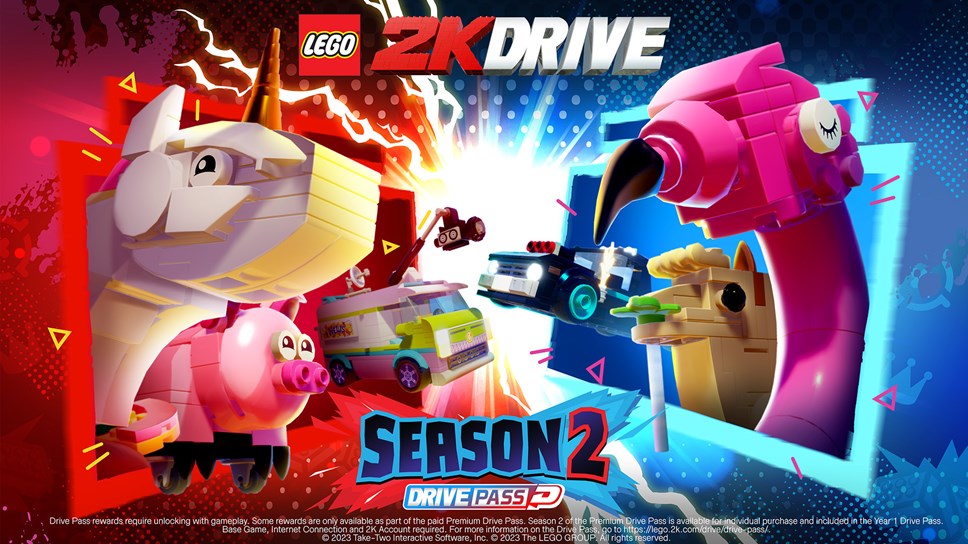 LEGO® 2K Drive Announces Drive Pass Season 2 Arriving Tomorrow
Drive Pass Season 2 features 100 tiers and new rewards, alongside the recently added Brick Brawl mode
Today, 2K and the LEGO Group revealed the second Drive Pass* Season is coming to LEGO® 2K Drive tomorrow, Wednesday, September 13. All players will have access to 100 new tiers and the ability to earn 22 Free Rewards, including three Vehicles, five Brick Packs, five Drivers and more! Additionally, you can also now square off in the vehicular chaos of the new Brick Brawl mode.
For those who purchase the Premium Drive Pass for Season 2, which is included in the Year 1 Drive Pass, players will also have the ability to earn 103 Premium Rewards including:
New Vehicles and Drivers - Premium Drive Pass Season 2 includes 11 new Vehicles and 10 New Drivers. With creations inspired by the LEGO City Design Team, new rewards include quirky creatures like a water-ready unicorn in pool-floaty form, a drivable couch, a Viking ship, and more!
New Customizations - With Premium Drive Pass Season 2 players can also take their creativity in the Garage to new heights with new Brick Packs, Stickers, Sounds, Flairs and more.
LEGO 2K Drive Seasons are not time-limited so players can pick up and play each Season at their own pace. Players that have been enjoying the Free version of a Season and decide to upgrade to the Premium version of Drive Pass Season 2 will instantly unlock all the Premium rewards they have earned based on their current level.
Additionally, as part of Season 2's launch, last week saw several exciting updates for LEGO 2K Drive.
Brick Brawl lets players test their mettle in team-based battles in the new multiplayer mode that's free to all**. A 3v3 online multiplayer mode that can also be played in 1v1 local splitscreen, the skirmishes push players to wreck an opponent's vehicle, while hosting matchings in unique arenas that are full of destructive Power-Ups, criss-crossing pathways, and obstacles that players can use to their advantage.
Ranked Multiplayer Online Modes arrived as an addition to the Play with Everyone online multiplayer modes**. The Race and Brick Brawl modes allow for Ranked competition, and you can queue for them in a party of up to three players online. The Ranked leaderboards are reset at the end of each two-week Heat, with six Heats in every new Season. Beyond bragging rights, climbing the ladders of each Heat and Season in Ranked multiplayer lets you earn additional rewards. More details about Ranked Modes are available here.
LEGO 2K Drive is rated PEGI 7. For screenshots, key art, and other visual assets, please visit newsroom.2k.com. To learn more, please visit https://lego.2k.com/drive/ and follow on TikTok, Instagram, Twitter and YouTube.
Online Account required to access online features. See www.take2games.com/legal and www.take2games.com/privacy for additional details.
Visual Concepts is a 2K studio. 2K is a wholly owned publishing label of Take-Two Interactive Software, Inc. (NASDAQ: TTWO).
* Drive Pass rewards require unlocking with gameplay. Premium Rewards are only available as part of the paid Premium Drive Pass. Season 2 of the Premium Drive Pass is available for individual purchase and included in the Year 1 Drive Pass. The Year 1 Drive Pass is included in the Awesome Edition and Awesome Rivals Edition and is available for individual purchase. Base Game, Internet Connection and 2K Account required.
**Base game, 2K Account and Internet Connection required. Online console play requires a paid subscription.
Contact Information
UK Press Office