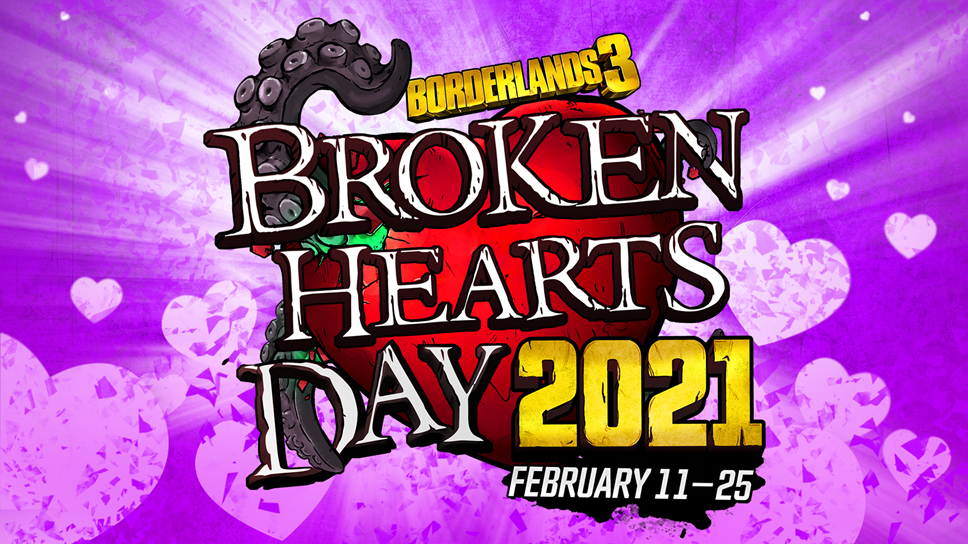 Borderlands® 3's Broken Hearts Day Event Begins; Special Limited-Time Discounts on Select Digital Editions Continue
Score themed loot for your Vault Hunters during the Broken Hearts Day seasonal in-game event from now until February 25
Borderlands® 3's Broken Hearts Day seasonal event* is back for the second year running! Mysterious floating hearts are swirling around lovesick enemies across the Borderlands. Aboard Sanctuary III, your Saurian pal Maurice—sensing an opportunity to further his studies of our species' courting rituals—needs assistance. As you travel around the galaxy, he'd like you to break any hearts you see by shooting them down. Simple!
Hearts aren't all the same, of course, and during this event, there are six distinct ways they can break. Some will fall to the ground with a fiery explosion, while others will drop loot, regenerate your health, or briefly turn nearby enemies into allies. Word has it there are even rare hearts that will spawn groups of ghosts from the Bloody Harvest, affording you an off-season opportunity to score some spooky loot.
Maurice places an equal value on all the various heart types and will keep track of how many you've broken. Obliterate enough hearts, and he'll mail new Broken Hearts Day rewards for your troubles:
10 – "ECHOcardiogram" ECHO Skin;
25 – "Cosmic Romance" Weapon Trinket;
50 – "Terminal Polyaimorous" Legendary Maliwan SMG;
75 – "Heartbreaker" Vault Hunter Skin;
100 – "Wedding Invitation" Legendary Jakobs Sniper Rifle.
Vault Hunters that helped the sentient Saurian last year will notice that this year's Broken Hearts Day event includes recolored ECHO Skin, Weapon Trinket, and Vault Hunter Skin cosmetic rewards. It also brings back last year's Legendary guns— which can only be obtained during this event— at the current level cap of 65.
This seasonal event has now begun, and you have two weeks to assist Maurice before the event ends at 4:59 PM GMT on Thursday, February 25. If you don't want to take part in the Broken Hearts Day event or simply want to play Borderlands 3 without breaking hearts for a while, you can opt out from the main menu. Note that when you join an online game, the host player's setting will determine whether or not the event is active.
But that's not all! The latest episode of The Borderlands Show was packed with exciting updates and announcements, including news on the upcoming Director's Cut* add-on for Borderlands 3, the impending re-release of award-winning adventure title Tales from the Borderlands®, and the reveal of the Disciples of the Vault premium cosmetic packs coming soon to Season Pass 2*. Be sure to catch all the news by visiting borderlands.com or newsroom.2k.com.
Still haven't joined the mayhem? For a limited time, get 50% off Borderlands 3 Ultimate Edition and 55% off Borderlands 3 Super Deluxe Edition on Xbox via the Microsoft Store and PC via Steam and Epic**! You can also pick up a copy of the Borderlands 3 Standard Edition for 70% off on Xbox via the Microsoft Store, 72% off on PlayStation via the PlayStation Store, and 67% off on PC via Steam and Epic! See full dates and availability below.***
Borderlands 3 is available now on Xbox One, Xbox Series X|S, PlayStation 4, PlayStation 5, Stadia, and PC via Steam and the Epic Games Store. For assets and additional information, please visit newsroom.2k.com.
* Requires a copy of the Borderlands 3 base game to play.
** Based on 2K's suggested retail price. Offers apply to digital editions only. Offers valid only while supplies last. Exact offer dates & discount will vary by region and retailer & are subject to retailer's own terms. See retailer's site for specific details & terms. Void where prohibited or otherwise restricted by law. 2K Games is not responsible for the fulfillment of any retailer offer.
*** Offers on the Epic Games Store valid from February 4, 2021 to February 11, 2021. Offers on Steam valid from February 4, 2021 to February 18, 2021. Offers on the Microsoft Store valid from February 9, 2021 to February 22, 2021. Offers on the PlayStation Store valid from February 3, 2021 to February 17, 2021.
Borderlands 3 is developed by Gearbox Software for 2K. 2K is a wholly owned publishing label of Take-Two Interactive Software, Inc. (NASDAQ: TTWO).
# # #