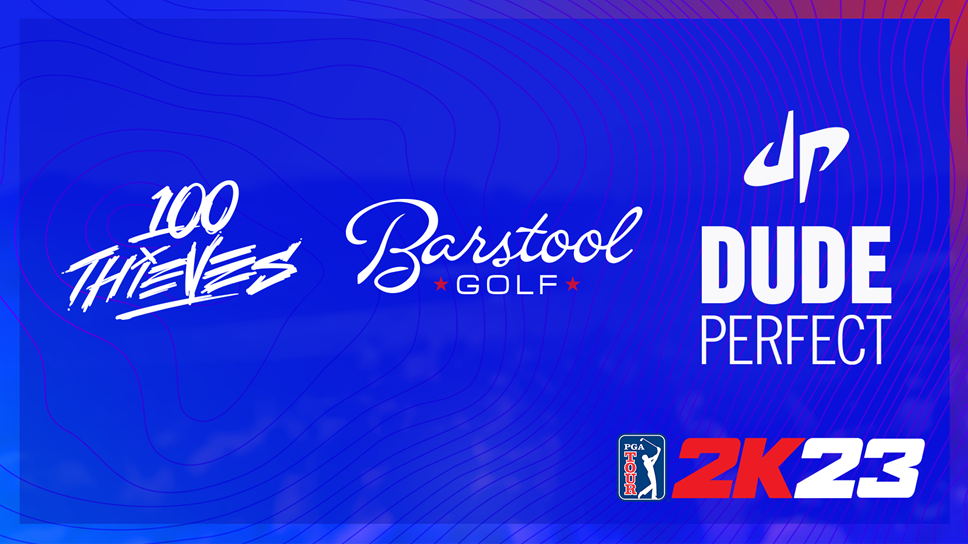 Barstool Sports, Dude Perfect, and 100 Thieves to Bring Lifestyle Flair to PGA TOUR® 2K23
In-game merchandise and personalities coming soon from the popular lifestyle brands
PGA TOUR 2K23 tees up a rollout of post-launch bonus content with collaborations across video game culture, entertainment, and sports lifestyle media. Tapping into the massive appeal and audiences of Barstool Sports, Dude Perfect, and 100 Thieves, 2K will keep the fairway fresh with apparel drops and playable personalities from each brand in the coming months. All bonus content will be free for all players across all platforms.
Starting late October, the PGA TOUR 2K23 community will be able to deck their MyPLAYERs out in apparel from Dude Perfect, the comedy and sports entertainment team with over 58 million subscribers on YouTube. In addition to Dude Perfect-branded hats, a polo and a hoodie available as in-game MyPLAYER apparel, The Dudes will battle it out in an upcoming video, featuring PGA TOUR pro Collin Morikawa, to determine who will be integrated in-game as a post-launch playable character later next year. Known for their awe-inspiring trick shots, the Dude Perfect team will be sure to encourage creativity across the virtual links.
In-game apparel from the premium lifestyle brand and gaming organization 100 Thieves will also be available this Fall. Following the apparel drop, 100 Thieves Founder & CEO Matthew "Nadeshot" Haag, will make his debut in PGA TOUR 2K23 as a playable character. An avid golfer and PGA TOUR 2K player, Nadeshot previously made his mark on the franchise with a Course Designer collaboration called 'Thieves Landing'.
Finally, the largest and most influential digital sports, entertainment and lifestyle multimedia brand Barstool Sports will make its debut on the virtual course in early 2023, when branded merchandise and playable personalities from Barstool's popular golf podcast, Fore Play, will be featured in PGA TOUR 2K23. With their active following of millions of golf fanatics, Barstool Sports have already built strong connections with the PGA TOUR 2K community, and have hosted online tournaments with the PGA TOUR 2K21 Barstool Golf Society*.
Stay tuned for additional information around the rollout of in-game apparel and playable characters from Barstool Sports, Dude Perfect and 100 Thieves in the coming months.
PGA TOUR 2K23 Deluxe Edition and PGA TOUR 2K23 Tiger Woods Edition are available now, soon to be followed by PGA TOUR 2K23 Standard Edition on 14 October, for Xbox Series X|S, Xbox One, PlayStation®5 (PS5™), PlayStation®4 (PS4™) and Steam.
​​For more information on PGA TOUR 2K23 and 2K, visit https://pgatour.2k.com/2k23/, become a fan on Facebook, subscribe on YouTube, follow the game on Twitter, Instagram and TikTok, and use the hashtag #PGATOUR2K23.
*Multiplayer modes can only be played with the same console or across generations within the same console family (Xbox One to Xbox Series X|S; PlayStation 4 to PlayStation 5). Online Account (13+) required to access online features. See www.take2games.com/legal and www.take2games.com/privacy for additional details.
HB Studios is a 2K studio. 2K is a wholly owned publishing label of Take-Two Interactive Software, Inc. (NASDAQ: TTWO).
###